Lately I've been surfing a blog called Synthtopia a lot. I actually came across it when they re-posted the optimizing your mac article/video I did for DJTT a while back and it is pretty cool. Its basically a daily round up of anything news worthy in the realm of electronic music, controllers, synths, and daw software. I've also discovered a crap load of free samples thru Synthtopia, and I'm hooking them up with a link in my blogroll.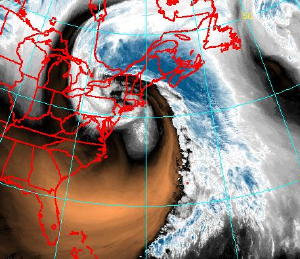 A few weeks ago [01/10/09] I had a gig at Room 960 opening for Randy Boyer. Starting 2 or 3 days before, the local weatherman were predicting a bad storm with snow followed by freezing rain. The forecasters in New England are typically spotty at best, but have been dead on almost all winter thus far, so I believed them. By 1pm the snow was coming down, and at 2pm I had called Daddy Charles to inform him that I was coming to his house to trade my rear wheel drive Cadillac CTS for his 4×4 Blazer. He initially said no, trying to talk me out of going, but after I informed him that even if I had to take my Harley up to Hartford I was going, he agreed. My wife made similar attempts to dissuade me, but I told her I've never missed a gig in my life, and I didn't plan to start now.
I usually like to get to the club around 8:30, set up my gear, and run a sound check before we open. It never take me more than 45 min to get to Hartford, but a left a few minutes early [7:30] expecting delays. The snow got worse as I headed north, and when coupled with snow plows and insane CT drivers, my time doubled to 1 ½ hours. I made it just in time to plug in and play at 9pm, rock the decks for 2 hours, and have a good time.
So I had to go against my better judgment, and take my life into my own hands… Hey at least I didn't miss the gig. My perfect streak still stands!
So if you been to the mikecharles.net blog in the past, then you know that it pretty much sucked. I roped in my good friend and web designer Steve of the Hatter's Workshop to put together a proper blog for me. Its under construction, but it works. So welcome and enjoy!
I just wanted let everyone know that my father has taken to calling himself "Daddy Charles." He decided several days before the Hartford gig that this is what he wants to be referred to as. Turns out, it went over big in Hartford and the name has most recently won the approval stamp of Randy Boyer.
Speaking of Hartford, it was awesome. Room 960 is a nice place, and there were good tunes all night. Photographer Mikey McNulty even got this totally rockin shot of me spinning. You can see all the pics from that night here.
In other news, Episode 11 is posted. This is the mix that I did for Randy's KISS 95.7 radio show, so if you missed the original airing of it, you can download it now.
Big stuff going on behind the scenes lately. Check out the updated info for the my Toronto gig over in the events section, and be on the look out for serious announcement later this week. I've left a hint hidden somewhere on the site, but its pretty darn subtle. Good luck finding it.
P.S. Leave a review of the podcast in iTunes, please.
So I haven't blogged in a while… So now i get to try and cram everything into one post, here goes.
First up, WEMF. This was my third year in a row attending the World Electronic Music Festival in Ontario, Canada. For the second straight year, I played on one of the side stages at WEMF, which is cool. This year something special happened though. I entered Episode Two of the DanceCast into their new talent competition and as a result I won myself a prime time spot in the prestigious New Talent tent at the show. For those of you who missed one of North America's biggest parties, head over to the music page and check out Episode Seven of the DanceCast, which was recorded, live from WEMF's New Talent Stage.
Exactly one week after the 3-day rollercoaster that is WEMF, I was in Hanover, New Hampshire to headline a party at the India Queen hookah bar. This is a little town that is pretty far north in NH, and Hanover is home to Ivy League school Dartmouth, so I wasn't really sure what to expect from this gig. The promoters for this night (Jill and Dusty) were really cool people and the owner (an Indian fellow named Bob) was too. As soon as I got there Bob gave me a few drinks and then set a few of us up with our own hookah filled with vanilla tobacco. The club portion of this place is has a small intimate feel and they pipe music onto the outdoor patio as well. My set starts at about 11:30 and people were in the mood to dance. Pretty soon the dance floor is packed and they love all the house and breaks I'm playing. It was the perfect symbiotic relationship between DJ and dance floor that I always talk about. I played for 2 hours and we had such a fun time. This was by far one of my favorite gigs in a long time. If you're in the area you have to check this place. Where else can you hang out on the outdoor patio with a drink, smoking a hookah, and then go to the fun loving dance floor and hear Mike Charles for 2 hours? Keep an eye on the events page, because I may back in Hanover soon.
Well I'm off to Sturgis, South Dakota for America's biggest bike rally. My father and I are riding our Harleys there. Its about 1800 miles each way! In the meantime drop me an email and let me know what's up. Oh and head over to the podcast page and subscribe if you haven't already. There are seven episodes + extras now and we have listeners in 22 countries.
I am a huge fan of turtles. That being said check out the great turtle race. They have 11 turtles sponsored by companies and they satellite track this girls from the time they lay eggs on the beach of Costa Rica, until they return to the Galapagos Islands. I have decided to endorse "Billie", a turtle with notches on her rear flippers from predators. Anyone interested in sponsoring a turtle with me next year?